The Seeker
Production Information
Manufacturer

Brodic Ares Corp.

Product line

SV Transports

Model

SV-100 Transport

Class

Transport

Technical Specifications
Length

65 meters

Maximum acceleration

2860 G

Maximum speed
(atmosphere)

1050 km/h

Hyperdrive rating
Hull

Reinforced
Titanium Armor

Navigation system

Equipped

Armament

Heavy Laser Cannons (2)

Docking bays

Port and Starboard
Launch Bays (Aft)

Escape craft

Equipped

Crew

Pilot (1)
Co-pilot (1)
Sensor/Communications
Gunners (2)

Minimum crew

1

Passengers

8

Cargo capacity

175 metric tons

Consumables

6 months

Life support

Equipped

Usage
Role(s)

Transport
Smuggling
Exploration

Era(s)

Rise of the Empire
Rebellion

Commissioned

7 BBY

Affiliation

Nyystrom Institute
The Seeker
was a modified SV-100 Kestrel Transport manufactured by the Brodic Ares Corporation. The vessel was initially used as a corporate courier and transport before being purchased by the Nyystrom Institute on Torellia.
The ship was modified by the institute to act as a base for scientists and researchers working for the organization. The ship eventually came under the charge of Max Eilerson, doing research in the Western Reaches of the Inner Rim. The ship's primary mission was to investigate the enigma of the Gray Circle, although it was a secret mission sponsored by Arthur Bishop.
Renamed the Seeker, the ship traveled to the surrounding areas near the Engstrom Trust, investigating potential leads on the Gray Circle. It was around 5 BBY that the Seeker was dispatched to Cyyla to investigate ruins that had been uncovered on the planet.
RPG D6 Stats
Craft: Modified BA SV-100 Space Transport
Affiliation: Nyystrom Institute
Type: Private Space Transport
Scale: Starfighter
Length: 65 meters
Skill: Space Transports: The Seeker
Crew: 3, Gunners: 2, skeleton: 1/+10
Passengers: 8
Cargo Capacity: 175 metric tons
Consumables: 1 year
Hyperdrive Multiplier: x1
Hyperdrive Backup: x12
Nav Computer: Yes
Maneuverability: 2D
Space: 8
Atmosphere: 365; 1,050 kmh
Hull: 4D
Shields: 3D
Sensors:
Passive: 30/1D
Scan: 60/2D
Search: 120/2D+2
Focus: 4/3D
Weapons:
Two Heavy Laser Cannons
Scale: Starfighter
Fire Arc: Turret (Dorsal/Ventral)
Crew: 1
Skill: Starship gunnery
Fire Control: 2D
Space Range: 1-3/12/25
Atmosphere Range: 100-300m/1.2km/2.5km
Damage: 5D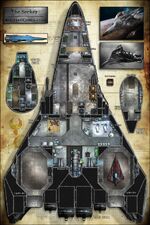 Notes
The Seeker art was done by the talented Ryan Wolfe over at 0-hr.com. He has some spectacular ships showcased over there. The picture has been modified, but the credit really goes to him for his awesome, hard work. Check him out @ 0-hr.com and on Deviantart.
Community content is available under
CC-BY-SA
unless otherwise noted.